Budapest, Hungary - Getting Around, Sites & Attractions
Also known as the 'Queen of the Danube', Budapest is a magnificent city exuding a cultural sophistication that entices and enchants. Gracing both sides of the legendary river with grand historic buildings, regal bridges and graceful tree-lined boulevards, it is the elegant beauty and romantic atmosphere that has given Budapest Parisian status among the Eastern European countries.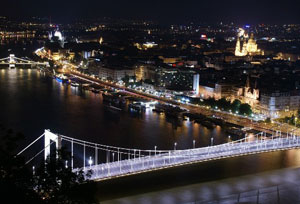 Budapest offers the visitor the familiarity of European culture with a distinct Hungarian flavour. It is evident in the neo-Gothic Parliament buildings, sidewalk cafes and Magyar cuisine; classical concerts and Hungarian folk music; the cobbled streets of medieval neighbourhoods and shady parks, and everywhere the sounds of an unfamiliar language. Highlights for visitors include a river cruise on the Danube and a thermal bath in one of the Turkish-era bathhouses.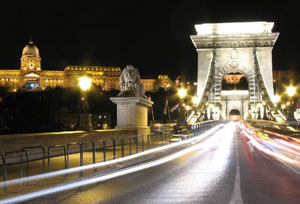 Budapest was originally two cities built on either side of the Danube, namely Buda and Pest. The two districts are still distinct in their contrasting makeup, with the older and more charming Buda comprising atmospheric cobbled streets, little picturesque coloured houses and a medieval, neo-Classical mixture of architecture set among the gentle hills of the west bank. It is famous for its historic Castle Hill featuring the Royal Palace, museums and galleries, St Matthias Church and the ramparts of Fisherman's Bastion.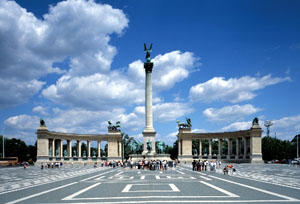 Pest lies on a flat plain and is the commercial core of the city. It bustles with fashionable shopping areas and has characteristically wide, leafy boulevards. Andrássy Boulevard is the Champs-Elysées of Budapest, lined with a typical mosaic of architectural styles and buildings with the enormous Heroes' Square at the end. A history of numerous wars and invasions, with repeated destruction and rebuilding, has created the Budapest of today, with an amalgamation of styles, created over time during periods of loving restoration by a proud and resilient nation of people; a city of charm and character, both European and singularly Hungarian.
Getting Around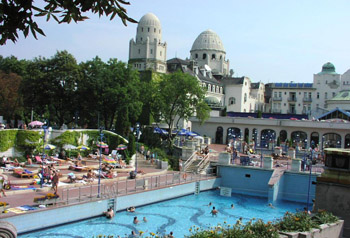 Budapest has an extensive, inexpensive and efficient public transport system that includes the metro, trams, buses, trolley buses and trains. Most transport runs until about 11.30pm after which there is a limited night bus and tram service until about 5am.

The metro is clean, safe and frequent, and although there are only three lines it reaches most areas of interest to tourists.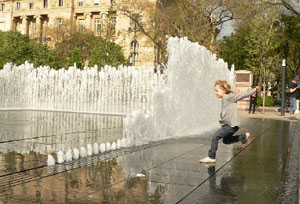 Trams are good for travelling around the Great Boulevard or along the embankment; trolleybuses (electric buses) operate in Pest; and although more difficult to use, buses are useful for journeys that can't be made by metro, especially around Buda. There are regular incidents of pick pocketing on buses and metro lines though, particularly when they are crowded.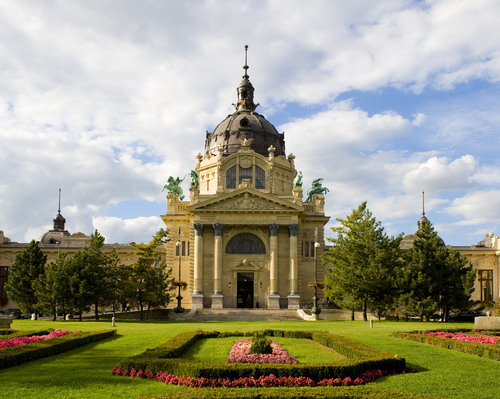 An overground HÉV train network services the outer suburbs. One of the few ways to reach the Castle District other than on foot is by means of a funicular from Clark Ádám tér. All forms of public transport require the self-validation of pre-purchased tickets, which can get complicated; it is best to get a travel pass for convenience that will also save money. Day or multi-day passes are inexpensive and hassle-free, although the tourist Budapest Card combining three days of travel with discounted attractions isn't all that good value.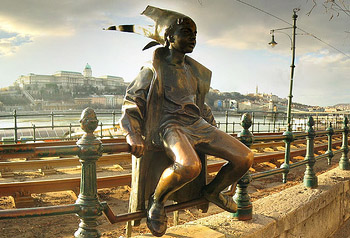 Budapest's taxis have a reputation for cheating foreigners and visitors are warned not to do business with private, unmarked vehicles that hang around stations. Legal taxis should have a yellow number plate, clearly display their rates and have a meter that is switched on. It is cheaper to order one by phone from reputable companies such as Budapest Taxi or City Taxi.
Attractions
Castle Royal Palace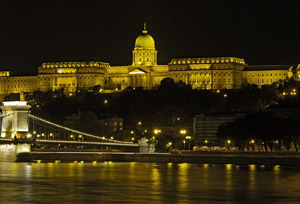 Located at the top of Castle Hill in the picturesque Castle District of Buda, the Palace was first inhabited by King Béla in the 13th century who, after the Mongol invasion, turned it into a fortified stronghold against further attack. During the next 700 years it was the residence of many royal figures. The strategic location of Budapest, situated in the heart of Europe and straddling the Danube, offered whoever controlled the city a defensive position and potential control of the main waterway and this led to repeated invasions, followed by rebuilding in the style of the period.

The castle has a mixture of architectural styles, ranging from Gothic to Baroque. Today it is the country's most important cultural centre housing numerous museums and the majority of the buildings are historical monuments. The Budapest History Museum contains an exhibition explaining the history of the city as well as archaeological remains of the palace. Also within the palace complex are the Hungarian National Gallery, the National Library and the Ludwig Museum.

Address:
District I, Budavári Palota, Dísz tér 17

Transport:
Tram 18 to Dózsa tér; bus 5, 16 or 78; funicular railway from Clark Ádám tér; or Várbusz (castle bus) from Moszkvatér.

Opening Times:
The Budapest History Museum is open daily from 10am to 6pm, except on Tuesdays. The Hungarian National Gallery and the Ludwig Museum are open daily from 10am to 6pm, except on Mondays.


Chain Bridge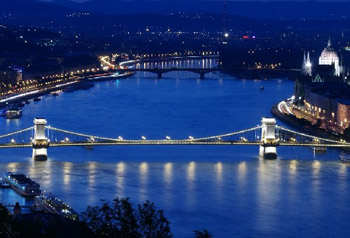 The Chain Bridge was the first stone bridge to be built over the Danube and is the most famous with its lion statues. Today nine bridges span the river linking Buda to Pest, but Chain Bridge takes pride of place as the city's symbol, a magnificent sight when floodlit at night. It owes its construction to Count István Széchenyi who decided to build a permanent crossing after having to wait a week to cross the river to bury his father.



The Chain Bridge was built by William and Adam Clark who constructed London Bridge. It was considered an amazing feat of engineering when it was opened in 1849. At the foot of the bridge is Kilometre Zero, the point in Budapest from where all distances are measured.

Address:
Clark Ádám tér

Transport:
Bus 4, 16 or 105; tram 2 or 19
Fisherman's Bastion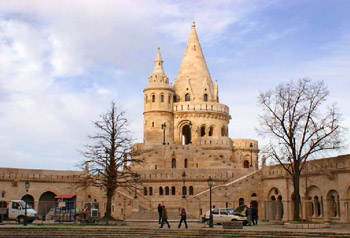 Built in 1905 on the medieval castle walls, the neo-Romanesque ramparts were so named after the city's fishermen whose duty it was to defend this side of the hill during the Middle Ages, but the existing bastion never actually served a defensive purpose. It is solely ornamental with gleaming white cloisters and stairways connecting seven turrets symbolic of the Magyar tribes that conquered the Carpathian Basin in the 9th century.



Set back from the ramparts is an equestrian statue of King Stephen, a memorial to the founder of the Hungarian nation. The view from Fisherman's Bastion, over the Danube, the Chain Bridge and the Parliament Buildings with Pest stretching out into the distance, is outstanding. Floodlit at night, the bastion is a mesmerising sight from across the river.

Address:
District I, Szentháromság tér

Transport:
Tram 18 to Dózsa tér; bus 5, 16 or 78; funicular railway from Clark Ádám tér; or Várbusz (castle bus) from Moszkvatér
Gellert Hill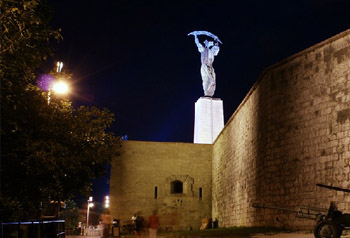 Gellért Hill offers unrivalled panoramic views of the city, taking in both Buda and Pest and the meandering Danube in between. The hill is named for a bishop who was tasked to convert pagan Magyars to Christianity but, according to legend, he was killed by being rolled off the hillside in a barrel by militant heathens. A statue of the martyred Bishop stands at the base of the hill. On its summit stands the Liberation Monument, a female figure holding aloft the palm of victory, dedicated to the memory of Soviet troops who died freeing Hungary in 1945. With the fall of communism the inscription was changed to honour those who died for 'Hungary's prosperity'.

Behind the monument is the Citadella, or fortress, built after the 1848 revolution to provide military control against further uprisings. Today it houses a hostel and a museum. The hill is also home to several historic spas, valued for their medicinal qualities since the Turkish occupation. The city's most famous spa, the Gellért Baths, is attached to the grand establishment of the Art Nouveau Gellért Hotel. Here visitors can relax in the thermal waters of the Roman-style pool with its lion-headed spouts, surrounded by columns and mosaic patterns, or indulge themselves with private therapeutic treatments or a massage.

Address:
District XI, Szent Gellért tér 2-6 Telephone: (01) 385 2200 Transport: Bus 27 from Móricz Zsigmond körtér (opposite the Gellért baths), or it's a 20minute walk up.

Opening Times:
Citadella: Monday to Friday from 6am to 6pm, Saturday and Sunday from 6am to 4pm
Matthias Church
Situated in the centre of the Castle Quarter, the 700-year-old Church of Our Lady is popularly known as Matthias Church after the nation's famous ruler, King Matthias (1458-90), a patron of learning and the arts who reconstructed the Hungarian state after decades of feudal anarchy. With its distinctive multicoloured tiled roof and Gothic spire, the church is one of Budapest's best-known structures, and it was here that the nation's kings were crowned and King Matthias was married. Today the church continues to hold High Mass, as well as concerts, organ and choir recitals owing to its magnificent acoustics. Matthias Church is a mixture of styles from the various kings, occupations and periods.

When the Turks occupied the Castle in 1541 it was converted into a mosque, and the interior walls were whitewashed and painted over with scenes from the Koran. It suffered heavily in the later siege and was restored again in the 19th century, reconstructed in its characteristic neo-Gothic style, and remains of the original medieval frescoes were discovered underneath the whitewash. The interior is richly decorated with gilded altars, statues, rose windows and frescoes. Inside is the Church Museum, which gives access to the crypt, and a small collection of religious treasures and jewels. A fantastic paradox is visible in the reflection of the Gothic church in the sleek dark glass sides of the contemporary Budapest Hilton alongside.

Address:
District I, Szentháromság tér

Telephone:
(01) 355 5657

Transport:
Funicular from Clark Ádám tér, or bus 6 Opening

Opening Times:
Monday to Saturday from 9am to 5pm, Sunday from 1pm to 5pm
Parliament Buildings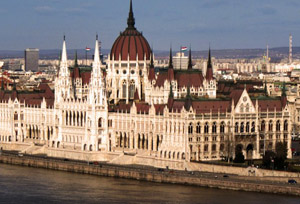 On the banks of the Danube stands one of the world's most beautiful parliament buildings, an imposing sight and a prominent feature of the city's panorama. With its red dome and white stone lace ornamentation and spires it is the city's most decorative structure. Stone lions flank the entrance guarding a rich interior of marble and gold, statues and columns, and magnificent artefacts, including the 1,000-year-old crown of the first Hungarian King, all of which can be viewed on a guided tour. The grand edifice, stretching for 820 ft (250m) along the embankment, is one of the biggest national assemblies in the world.

Address: District V, Kossuth Lajos tér 1-3

Telephone:
(01) 441 4904

Transport:
Metro 2 to Kossuth tér; bus 15; trolley bus 70 or 78; tram 2

Opening Times:
Guided tours only. Monday to Friday at 10am and 2pm, Saturday at 10am
Statue Park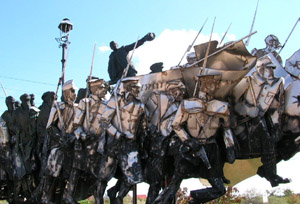 One of the city's popular but more bizarre attractions is Statue Park, containing the giant figures of the Communist era that once filled the streets of Budapest. After the change in the political system the monuments glorifying Communism were banished into the exile of this outdoor museum and among the statues, busts and monuments are the forms of Lenin, Marx and Engels, as well as memorials to the Soviet Soldier and the Communist Martyrs. This is the only collection in the world from the time of Communist politics. Some of the interesting souvenirs sold at the park are cans of air from the 'last breath of socialism' and Stalin and Lenin shaped candles.

Address:
District XXII, corner of Balatoni út and Szabadkai út

Telephone: (01) 424 7500

Email: office@szoborpark.hu

Website: www.szoborpark.hu

Opening Times:
Daily from 10am to 8pm (mid April to October).
From November to mid April, Saturdays and Sundays only from 10am to dusk